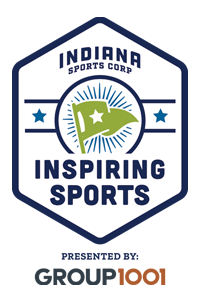 For more questions about Inspiring Sports Youth Programs, please contact Molly Wright at mwright@IndianaSportsCorp.org or (317) 237-5102. To make a donation to Indiana Sports Corp youth programs, click here.

Inspiring Sports Exchange
This online tool connects youth-serving organizations with Indiana companies and individuals who have sports equipment, volunteer hours, facilities, and other resources to donate.
Learn more about The Exchange here.
Grants
The Inspiring Sports Grant Program support organizations that provide underserved youth with the opportunity to participate in sports and fitness activities and teach life skills.
View our open grant opportunities here.
Grant Writing Info Session
Highly suggested for teachers, parents, and youth-serving organizations
With the challenging times faced through the COVID-19 crisis, funding to serve the needs of our community is more crucial than ever. And when grant opportunities become available, you want to be sure you're ready to deliver a proposal that clearly outlines your organization's mission and need for resources.
Check out the recording of the webinar from April 21.
Ticket/Event Programs
Indiana Sports Corp provides tickets to many of its events to youth-serving organizations.
Learn more about ticket and event programs here.
Inspiring Sports Football Officials Clinic
Would you like to learn more about becoming a football official? We are hosting a virtual interest session in April and an in person socially distant session in June for those passionate about football. If you are 18 or older looking to get involved in the community register today! In addition, upon completion of the program you will receive your certification to start working and an officials shirt!
Spring dates coming soon!
2021 Big Ten Women's Basketball
Virtual Junior Journalism Program
Indiana Sports Corp and the Big Ten Conference are teaming up for the third year in a row during the Big Ten Women's Basketball Tournament by offering The Junior Journalism Virtual Program.

This virtual program is for girls and boys in 5th through 8th grade aspiring to learn more or have a future career in journalism. 14 students will be selected to participate in the two part program: writing an article about the student's assigned Big Ten women's basketball team and attending an exclusive virtual workshop on Saturday, March 13 of the Big Ten Women's Basketball Tournament.
Students will experience a day in the life of a sports journalist and expand their writing and creative thinking skills throughout the program!
Application is due: Jan 8th